What will be the first thing you do when you graduate? Celebrate? Yes, maybe, but not with peace of mind. The most common question you will hear is, what will you do next? Rahim is joining XY Company, where will you be joining? My cousin's sister-in law's ………. brother got a job right after graduating in AB group, what about you?
So it is better to prepare yourself mentally and get some idea about your job and career before you graduate. Here we are introducing you with top websites for your career.
Top 7 websites for your career
LinkedIn
LinkedIn is an American business and employment-oriented service. It operates via websites and mobile apps. LinkedIn was founded on 28 December 2002 and launched on 5 May 2003. It is used for professional networking, including employers posting jobs and job seekers posting their CVs. The CEO of LinkedIn is Jeff Weiner, and it's headquartered is in Sunnyvale, California, U.S.
LinkedIn allows users to create profiles for employees where he can post his/her curriculum vitae describing their work experience, education and training, skills and a personal photo. The site also allows members to make connections to each other in an online social network which represents real-world professional relationships. Employers also list jobs and search for potential candidates.
Indeed
Indeed is an American worldwide employment search engine for finding job listings. It was launched in November 2004. Its headquarter is in Austin, Texas and Stamford, Connecticut and many branch offices around the world. It is available in over 60 countries and 28 different languages. Indeed was co-founded by Paul Forster and Rony Kahan.
This website collects job listings from all other websites and makes it easier for you to get all those job listing on one website. The job listings include jobs from job boards, staff firms, associations, and company career pages. They get their revenues from premium job postings from different companies and resume features to employers and companies hiring.
Naukri
Naukri.com is an Indian job search engine. It was founded in March 1997 and is operating in India and the Middle East. This website was founded by an Indian businessman Sanjeev Bikhchandani. About 1000-5000 employees are employed through this organization.
This website is available in English. It's headquartered is in Noida, India. Naukri.com generates revenues from the resume database, job postings, Branding solutions, e-apps, cloud products, advertisements, subscription fees, etc. You will have to create a profile in this job portal in order to search and apply to jobs.
Monster
Monster.com is a global employment website. It was launched in January 1994 through the merger of two companies, "The Monster Board" and "Online Career Center". It is available in many languages.
The headquarter of this website is in Weston, Massachusetts, U.S. Jeff Taylor is the founder of this website. The revenue from this website was 880 million U.S. dollars in 2014. About 4000 people are working on this website.
Dice
Dice.com is a job search engine and review website. It's headquartered is in New York, the U.S. This website is owned by DHI Group, Inc.
Dice.com was founded by Lloyd Linn and Diane Rickert in 1990. By April 2001 they had 175 employees working for them. And now the number has gone up to 500+ employees worldwide.
Dice serves information technology and engineering staffing firms. They have approximately 80,000 tech job listings. So, basically they provide information about tech-related jobs. They get 2.4 million unique visitors each month.
CareerBuilder
Careerbuilder is also a job search engine. It was founded in 1995 by Robert J. McGovern as NetStart Inc. it's headquartered is in Chicago, Illinois, U.S.
It is available in different languages. At present Irina, Novoselsky is the CEO of CareerBuilder. In 2016 its revenue was 714 million US dollars. About 3000 employees are working for this website at present.
Glassdoor
This is a different kind of website where current and former employees anonymously review companies. Candidates who are eager to apply to any company can get inside information about salary, environment, culture, etc. of that specific company. They also allow users to apply for jobs through their website. So this is all in one package.
It is available in different languages. Glassdoor was founded in June 2007 by Robert Hohman, Rich Barton, Tim Besse. It's headquartered is in Mill Valley, California, U.S. about 800 employees are working for this website.
10 Business Skills that Might Come in Handy in Everyday Life
The human being is a very curious species by birth. He is always up to something new and always tries to amplify new skills by nature. But it's true that nobody can amplify all the skillset at a time. It takes patients and dedication to master. One must go into the path of trial and error for that. There are 10 sets of business skills everyone needs to master within his/her academic life. Not only in career but also in their daily life, all of these 10 skills are crucial, and all of these will assist one person to become a successful person not in his career but also in his daily life.
Top 10 Business Skills to You Need to Work On
1. Communication
According to Bloomberg's job skills report, most employers are looking for candidates with strong communication abilities-after all you are going to deal with miscellaneous clients. Communication skill is not just about how you talk or greet a person, It's much more than these. This skill has a major effect where ever you are and where ever you will be, whether in your personal life or in your professional life. Try to understand the core concept of this skill and try to practice it in your everyday life. You can not become a master of it within a week, but surely you can see your progress by the end of the month.
2. Leadership
Leadership skill is a charismatic skill to drive your subordinates and peers your way. With this skill, you can organize any event, motivate any person, and achieve any goal. With this skill, you can be incredibly valuable to others and you can unify a group and lead them in the right way. Leadership skill is a combination of managerial and human skills. If one of the skills isn't in you, you can not say that you are a leader. Most of us treat the manager as a leader or the authority as a leader. Leadership skill needs years or decades to adopt in. It's not as simple as it looks in the first attempt.
3. Financial Knowledge
Covid-19 has taught the world what happens when you lack basic financial knowledge. Financial knowledge is very crucial for everyone, You must know the basics of financial management – savings, asset management, investment management, loan, debt effect, etc. The knowledge of finance helps you to speak the language of your business/profession and assists you to understand the current financial position of your business or the company you are working for. With it, you can make realistic budgets, and always make cost-effective decisions that will impact your personal and professio0nal life.
4. Technical Know-How
Today we live in the age of technology, it's a global village today, you can connect anytime at anywhere you want. Whether you are a business person or a very common person, you can but help yourself without using technology in your daily life. it's more like, we eat and sleep with technology. Just look around you, you will figure out what I meant. Whether you are a business person or employee at any company you must be proficient in using regular technological products like computers, smartphones, printers, the internet, etc, and need to adopt new technologies relates to your work or daily life. Cause, technology helps you to connect, organize, manage and most crucially have everything in your hands within a very short time.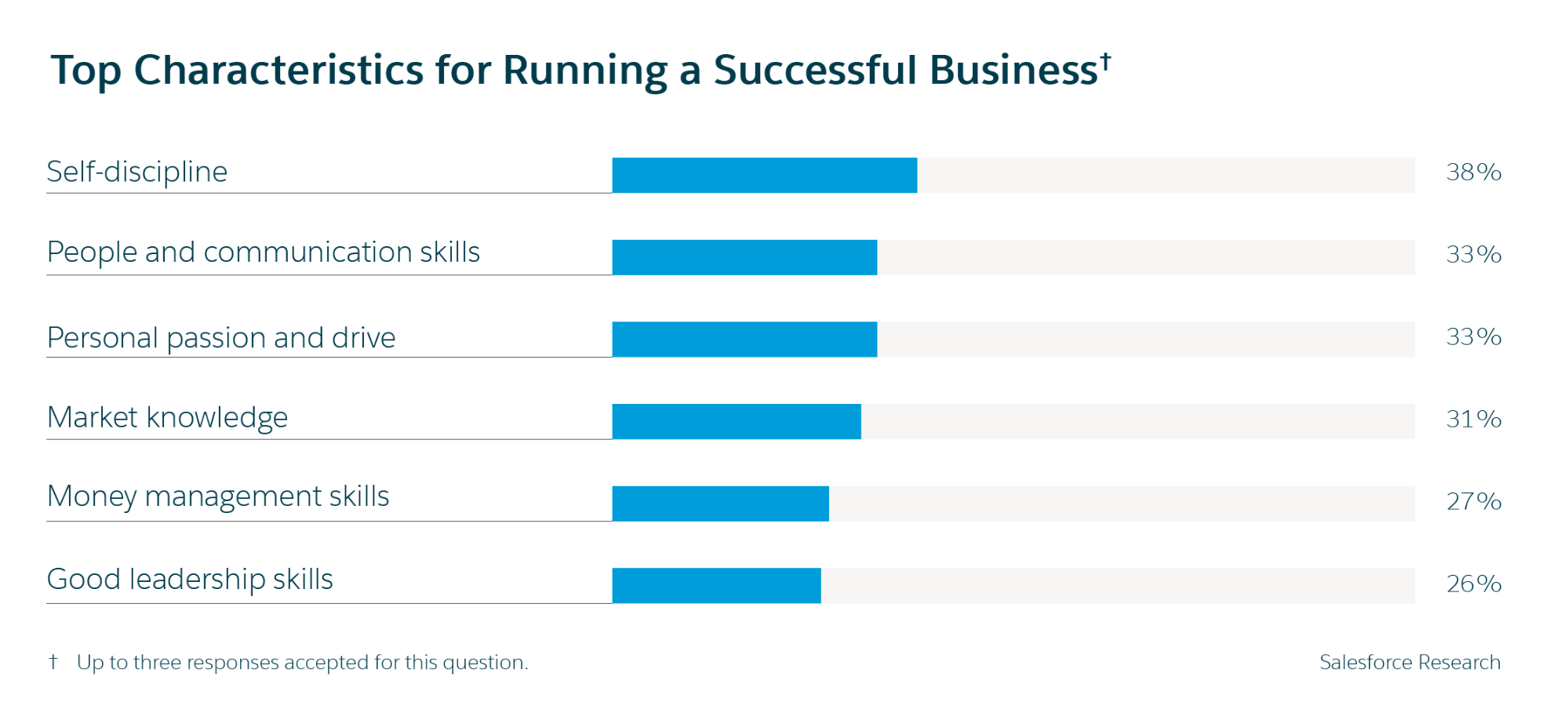 5. Never Give Up Mentality
Good things always come to those who work hard and have the never-giving-up kind of mindset. According to some psychologists, there are some people who are like born from the ashes. In most cases, they had been knocked down by life previously but they come back in life stronger than ever before. Such resilience is not easy to attain. Personality traits like optimism, positive attitude, ability to regulate emotions can assist you to be a person who falls twice and get up three times. Finally, if you really possess such a kind of attitude, you are halfway to your success already.
6. Curosity
There is a saying that" childhood is the best school and curiosity is the best teacher" so always stay curious. Ask questions, explore, speak with people. Increasing your curiosity will help you spark your creativity. It's going to help you explore the need of your customers and motivate you to come out with new innovations meeting the needs. Even, if you are doing a job under somebody it's going to help you by enhancing your work efficiency.
7. Market Understanding
Whether you are a businessman or a jobholder, your success mostly depends on customers. As a business person you are to know why your customers make the decisions they do, and how you can use that knowledge to make your company benefited. If you have the market understanding that who are your possible customers then you can make different strategies for each type, tailoring your message and price to their needs. When you are doing a job under the marketing department of an organization you can but help yourself without understanding the marketing terminologies and your customers.
8. Team Work
You definitely can do certain work on your own but the ability to do the same work with a team is an ability that you should try to develop throughout your lifetime. When you are working with a team you develop your listening and speaking skills. Moreover, you share knowledge, skills when you are working with a team instead of working alone. You can lead a team and that's how you can develop your leadership skills too and all of these skills are going to help you get your goals to fulfill irrespective of which profession you are in.
9. Presentation
Presentation skill is considered to be one of the most crucial skills to be successful in business. When you have a solid skill to present something it's going to help you in making your career moves, making an effective meeting, closing sales deals, communicating ideas, and a lot more.
10. Time Management
Time management is really a vital skill for a business person as well as for any other professionals cause it says "time is money". A real professional always does proper management of his time by making realistic planning and avoiding unproductive works. If you give proper value to your time, time will return you the same. You can develop that skill by saying 'NO' to voluntary commitments and by creating a margin in your schedule to ensure the completion of all your tasks.
Managerial Skills that You will be Required as A Good Manager
PF Darker said, "the productivity of work is not the responsibility of the worker but of the manager". A manager is an important link between the firm and its stakeholders. Everybody knows that a good manager needs certain skills and the person who performs and utilizes the managerial skills known as a good manager. A manager has skills, attitude, and quality to complete his regular task; these managerial skills play a vital role not only at the place of manager but also for the organization.
Managers are the top decision-makers and controllers in an organization. Whether the organization will run successfully or not, depends on how much dedication he puts and how skilled the managers are in that organization. That's why it is important for an organization to always hire the person who has proper managerial skills.
The secret to winning is constant, consistent management.

Tom Landry
Top Managerial Skills for a Good Manager
Conceptual, Technical, and Interpersonal are the 3 basic skills that transform a manager into a pro and make him successful leading in an organization.
1. Conceptual Skill
Conceptual skills are the abilities that allow an individual to better understand complex scenarios and develop creative solutions. The concept is the general idea or knowledge for any kind of work. In every single step, the manager must have knowledge about his organization and work. A piece of good conceptual knowledge in mind provides direction, get a decision, fixed any incident, planning for future, and complete overall function. In a different word, no one can understand other faults if he isn't an expert on that or has no concept on others' work. For this, he can't fix the fault and get a chance for failure. Working experience and study can help one to build this skill.
Examples of Conceptual Skills
Abstract thinking
Analytical skills
Cognitive skills
Communication
Contextualizing
Creative thinking
Critical thinking
Decision making
Action planning
Innovation
Leadership skills
Logical thinking
Management skills
Motivating
Organizational skills
Presenting
Problem-solving
Data mining
Strategic planning
2. Technical Skill
Technical skills are the qualities acquired by using and gaining expertise in performing physical or digital tasks. It may be software, market criteria, machines, new law enforced by Government, and other facts. It also means the knowledge or talent to perform mathematics, engineering, or science-related activities or tasks. You'll be a more competitive candidate if you have sought-after technical knowledge and skills common in the industry you prefer. Here are several technical skills that are common across different industries.
Examples of Technical Skills
Programming languages
Common operating systems
Software proficiency
Technical writing
Project management
Data analysis
3. Interpersonal skill
Interpersonal skills or employability skills are so crucial that hiring managers really don't want to hire candidates without them. People are judged by their first impressions and attitudes. A person's personality includes attitude, smartness, speaking frequency, sense of clothing, and so on. Interpersonal skills involve these and the relation making capacity. Interpersonal skills help a manager to be a good influencer. Even if you excel at the technical aspects of your job, if you're a disaster to work with, your presence in the office will not be well received.
It's not about money. It's about the people you have, and how you're led.

Steve Jobs
Examples of Interpersonal Skills
Communication
Conflict Management
Empathy
Leadership
Listening
Negotiation
Positive Attitude
Teamwork
---