Depending on who you ask; the word politics has quite a few different meanings. For some, it may be to "uphold the rights of the poor", for others it may be about "serving the people". But at the end of the day no matter what anyone says the essence of politics is power. The struggle for power, to be more specific. As I see more and more of my peers openly boasting with the now cliched phrase, "I hate politics", I can not help but wonder how many people actually realize that this struggle for power or simply put, politics is something inescapable in human society. Intentionally and unintentionally we participate in some sort of politics almost every day. Whether it be our classrooms, tightly knit friend circle or even our family, politics seeps through them like water through a cracked ceiling.
The same goes for our workplaces. Wait… no, that would be an understatement. Given how vicious and cutthroat an office environment becomes as it can determine long term success and failure, it's safe to say that the workplace is one of the more important places to be mindful of politics. So, whether you're a newbie or a seasoned veteran, winning at office politics is always about the preparation. You may think of yourself to be charming, coy and smooth as butter but without the preparation, those qualities will get you nowhere.
How to Prepare?
No matter which organization you work at, preparing for its power struggle always starts with identifying the 'BHAB'.
Confused? Let me explain…
B– Bias, H– Hierarchy, A– Allies, B– Bullies
Identifying the Bias: Sad but true that even in 2020 bias is still a pretty big component of human society. So undoubtedly it would be foolish to assume that workplaces will be exempt from it. Bias can be based on gender, skin color or social class. So the very first thing to do while approaching office politics is to identify the kind of bias that exists in the organization and how that bias affects you. If bias does exist, then to what degree? I suggest you ask these questions to yourself as the answers to these questions are as valuable as bullets on a battlefield.
Identifying the Hierarchy: If there is one thing I want you to remember before going into any organization is that, there is always, ALWAYS an unspoken hierarchy at play. Higher rank doesn't necessarily translate into higher influence. You'll find many cases where a manager may not be able to influence their team, as well as a specific member of the team, is able to. This is the hidden hierarchy at play. Certain individuals hold the capability to steer others, change opinions and influence even though their official rank shouldn't allow them to. It is only when you climb this hierarchy, you are able to be successful in climbing the organizational hierarchy.
This segment of your preparation is the most crucial as it directly affects the next two steps. Make sure you understand the hierarchy well and know the players as much as possible.
Identifying Potential Allies: Obviously, after you've studied the hierarchy and its players the next logical step is to determine whose favor you want to win.
Ask yourself, which colleagues are the most similar-minded with you? Who do you want to create a bond with? Are they going to backstab you? Can you trust them? Is your superior going to help you learn and grow or is he going to take credit for your work? Carefully evaluate the answers to these questions as much as you can.
Identifying the Bullies: Yeah, let's not beat around the bush about this. Every organization has bullies. They rely on cheap tactics and sometimes do borderline unethical things to sabotage someone's work or coerce someone and take credit for their work. You have to identify these individuals early on so that you know who to steer clear of.
What to Do?
Alright now that you have assessed the structure and people in your office, I can promise you that the hard part is over. The biggest hurdle of winning at office politics is to properly understand the inner workings of the relationship employees have within the organization. And now that that's out of the way, let's look at the actions you need to take to solidify your influence.
Build Trust and Comradery: It goes without saying, office politics is a people's game. The more people you create lasting comradery with, gain their trust and give them yours the better. Now I'm obviously not telling you to let your guard down. But a healthy amount of trust won't hurt. In fact, it'll actually be more beneficial than you think.
So how do you build this trust and friendship?
In many ways actually. If you take a genuine interest in your colleagues, learn from them and share what you know to help them grow too, I can guarantee that you'll have a meaningful comradery with most of your coworkers.
Keep Busy (Even if you're not): A very good way to give someone the ammunition to accuse you of laziness and dismiss your efforts is to seem less busy than others. I don't care whether you're a super genius who works efficiently and effectively to finish work before the deadline because most of the people in your office don't care either. It's not a question of how good you are at your job if people see you being less busy than them it immediately invokes a negative reaction in them. It leads to gossip and eventually it gets so out of hand that even when you deliver perfectly on your work your superiors harbor a negative impression of you.
Toot Your Own Horn (Tastefully): Because no one else is gonna do it!
There is a saying, "Your work will speak for itself". Which is true, to a certain extent. But in the wilderness that is the modern office space, the glorious sounds of your achievement can easily get drowned out by the incessant noise of gossip, favoritism, and bias. So, it's up to you to make sure that your efforts and accomplishments are being heard.
You can do this by casually mentioning the work that you completed that week during an interaction with your superior. Or highlight the unique contribution you made in a team task (while giving others their due credit of course).
What to Avoid?
No matter how much of a hard worker you are and how much you are liked by everyone, there are a few things that can bring you down almost instantly.
Dishing Dirt: Never gossip. Never! One sure-fire way to lose respect in the office is to give in to gossiping. You might be thinking that you're bonding with the person by talking ill about someone but what you are actually doing is giving them a reason to not trust you.
Because if you're talking bad about someone to them, who says you won't talk bad about them to someone else?
The "Informal" Trap: Never make the mistake of thinking it's possible to be in an informal situation with colleagues. Many people make the mistake of letting their guard down by thinking of an out of office gathering as an informal situation. The problem with this is if you make a mistake, or say something even jokingly chances are they are not going to be taken informally. Even a slight mistake can destroy the reputation or influence you've built so far. So it's better to avoid the "informal" trap altogether.
Antagonizing: Don't antagonize anyone. At least not openly. Not your competitors, not an unreasonable boss or even the office bullies. I know it might be tempting to tell off the office bully or being sarcastic to the unreasonably boss but the satisfaction of it is not worth the repercussions. Things in the office should always be dealt with through smiles and handshakes.
I know what you're thinking… office politics can seem pretty daunting. But at the end of the day, it's all about understanding people. The better you assess the situation and the people, the better your chances of winning at the office become.
Author: Touseef Salam |Studying at Mawlana Bhashani Science & Technology University, Bangladesh.
10 Business Skills that Might Come in Handy in Everyday Life
The human being is a very curious species by birth. He is always up to something new and always tries to amplify new skills by nature. But it's true that nobody can amplify all the skillset at a time. It takes patients and dedication to master. One must go into the path of trial and error for that. There are 10 sets of business skills everyone needs to master within his/her academic life. Not only in career but also in their daily life, all of these 10 skills are crucial, and all of these will assist one person to become a successful person not in his career but also in his daily life.
Top 10 Business Skills to You Need to Work On
1. Communication
According to Bloomberg's job skills report, most employers are looking for candidates with strong communication abilities-after all you are going to deal with miscellaneous clients. Communication skill is not just about how you talk or greet a person, It's much more than these. This skill has a major effect where ever you are and where ever you will be, whether in your personal life or in your professional life. Try to understand the core concept of this skill and try to practice it in your everyday life. You can not become a master of it within a week, but surely you can see your progress by the end of the month.
2. Leadership
Leadership skill is a charismatic skill to drive your subordinates and peers your way. With this skill, you can organize any event, motivate any person, and achieve any goal. With this skill, you can be incredibly valuable to others and you can unify a group and lead them in the right way. Leadership skill is a combination of managerial and human skills. If one of the skills isn't in you, you can not say that you are a leader. Most of us treat the manager as a leader or the authority as a leader. Leadership skill needs years or decades to adopt in. It's not as simple as it looks in the first attempt.
3. Financial Knowledge
Covid-19 has taught the world what happens when you lack basic financial knowledge. Financial knowledge is very crucial for everyone, You must know the basics of financial management – savings, asset management, investment management, loan, debt effect, etc. The knowledge of finance helps you to speak the language of your business/profession and assists you to understand the current financial position of your business or the company you are working for. With it, you can make realistic budgets, and always make cost-effective decisions that will impact your personal and professio0nal life.
4. Technical Know-How
Today we live in the age of technology, it's a global village today, you can connect anytime at anywhere you want. Whether you are a business person or a very common person, you can but help yourself without using technology in your daily life. it's more like, we eat and sleep with technology. Just look around you, you will figure out what I meant. Whether you are a business person or employee at any company you must be proficient in using regular technological products like computers, smartphones, printers, the internet, etc, and need to adopt new technologies relates to your work or daily life. Cause, technology helps you to connect, organize, manage and most crucially have everything in your hands within a very short time.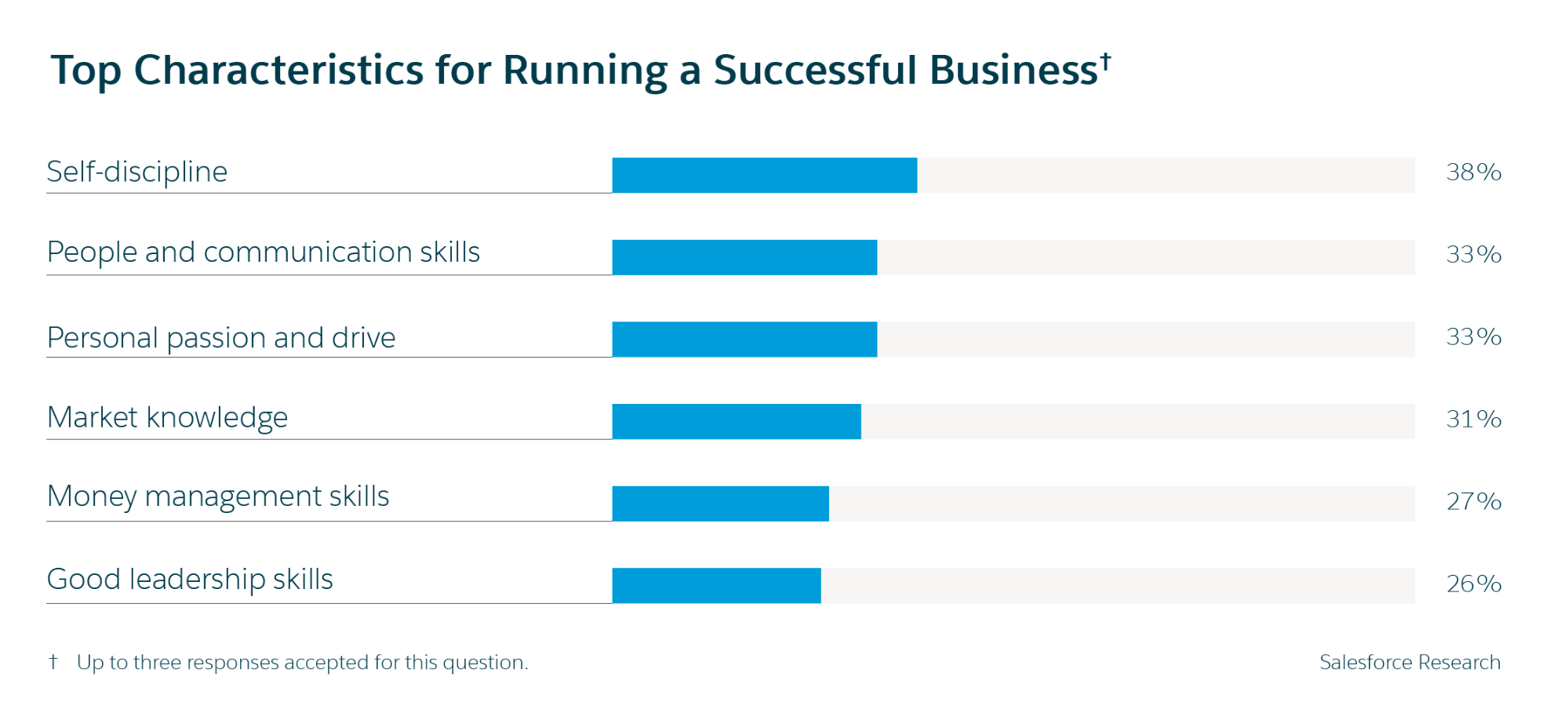 5. Never Give Up Mentality
Good things always come to those who work hard and have the never-giving-up kind of mindset. According to some psychologists, there are some people who are like born from the ashes. In most cases, they had been knocked down by life previously but they come back in life stronger than ever before. Such resilience is not easy to attain. Personality traits like optimism, positive attitude, ability to regulate emotions can assist you to be a person who falls twice and get up three times. Finally, if you really possess such a kind of attitude, you are halfway to your success already.
6. Curosity
There is a saying that" childhood is the best school and curiosity is the best teacher" so always stay curious. Ask questions, explore, speak with people. Increasing your curiosity will help you spark your creativity. It's going to help you explore the need of your customers and motivate you to come out with new innovations meeting the needs. Even, if you are doing a job under somebody it's going to help you by enhancing your work efficiency.
7. Market Understanding
Whether you are a businessman or a jobholder, your success mostly depends on customers. As a business person you are to know why your customers make the decisions they do, and how you can use that knowledge to make your company benefited. If you have the market understanding that who are your possible customers then you can make different strategies for each type, tailoring your message and price to their needs. When you are doing a job under the marketing department of an organization you can but help yourself without understanding the marketing terminologies and your customers.
8. Team Work
You definitely can do certain work on your own but the ability to do the same work with a team is an ability that you should try to develop throughout your lifetime. When you are working with a team you develop your listening and speaking skills. Moreover, you share knowledge, skills when you are working with a team instead of working alone. You can lead a team and that's how you can develop your leadership skills too and all of these skills are going to help you get your goals to fulfill irrespective of which profession you are in.
9. Presentation
Presentation skill is considered to be one of the most crucial skills to be successful in business. When you have a solid skill to present something it's going to help you in making your career moves, making an effective meeting, closing sales deals, communicating ideas, and a lot more.
10. Time Management
Time management is really a vital skill for a business person as well as for any other professionals cause it says "time is money". A real professional always does proper management of his time by making realistic planning and avoiding unproductive works. If you give proper value to your time, time will return you the same. You can develop that skill by saying 'NO' to voluntary commitments and by creating a margin in your schedule to ensure the completion of all your tasks.
Top 12 Productivity Apps to Get More Done
In this very competitive and busy world, just hard working doesn't always bring a fruitful result for us. Fact is we need to work smarter, not just harder. And ultimately be more and more productive for staying top on every task. Productivity is a measure of efficiency or simply how efficiently you can complete your task. It's actually getting desired results with less time and effort.
Today, every successful person, institute or company is obsessed with productivity. The exciting technologies of present time always try to give very easy and effective solutions to almost all of our problems, small to big ones. As a result, there's an excellent range of productivity apps available for making our day-to-day tasks easier and more effective. These apps can help you to complete your professional and personal tasks in a lot more efficient way. You can have many of these apps for free or go for the premium ones to get more featured functions.
Here are 12 popular and widely-used productivity apps that can immensely boost your productivity:
Todoist (Windows, Mac, iOS, Android, Chrome, Safari, Firefox)
Source: Todoist
To-Do lists
Task Management
Free, Premium: $3/Month
Todoist is one of the top-ranked productivity apps that helps millions of people organize work and life. It keeps track of all the tasks, projects, and goals of the user in one simple place. It also syncs across devices and integrates with necessary apps. The free version allows collaboration with five people per project and managing 80 projects at a time. Upgrading to premium provides options like reminders, labels, filters, templates, activity log, add tasks via email, comments & file uploads, calendar feeds, themes and automatic backups.
Evernote (iOS, Android, Windows, Mac)
Source: Evernote
Notepad
Organizer & Planner App
Free, Premium: $7.99/Month, Business: $14.99/User/Month
When it comes to organizing thoughts and ideas, Evernote will probably be at the top. Evernote is one of most widely used note taking app with a variety of features. Users can take & store text, audio, drawings, pictures, PDFs, web contents and other attachments as notes. It also gives reminders, email alerts, multi-device syncing and sharing options. The premium version has powerful organizer and planner functionalities. Its business plan allows collaboration and team projects.
Any.do (Web, Android, iOS)
Source: Any.do
Task Management
To-Do lists, Calendar, Reminders, Daily Planner
Free, Premium: $5.99/Month
Any.do is a great option for organizing our busy life. This is the all in one app featuring calendar, lists, planner, reminders, virtual assistant, voice-entry feature and more. It provides cross-platform syncing among phone, laptop, computer, web and even smart-watch. Any.do premium version comes with prioritized tasks, location based reminders, unlimited attachments, unlimited collaboration and some other options.
Asana (Android, iOS, Web)
Source: Asana
Project & Task Management
Collaboration & Integrations Tool
Free, Premium: $13.49/User/Month
Beyond from to-do lists, Asana is one of the very first workplace apps for collaboration, integration and communication within teams. It's a highly featured project management tool. Users can create to-do lists, projects, assign tasks to team members, keep track of ongoing works, set reminders & deadlines, send requests, make comments and much more. It's a great option for remote work and team management. The basic/free version of Asana allows collaborating with up to 15 teammates. Upgrading to premium increases this capacity and unblocks more features. Asana also gives business and enterprise (custom) plans. Companies like TED, Pinterest, Uber, Deloitte, Voxmedia, Comcast — use this app for productive communications.
Trello (Windows, Mac, iOS, Android, Web)
Source: Trello
Work/Task Management
Collaboration & Integrations Tool
Free, Premium: $12.50/User/Month
Another popular and very efficient workplace collaboration tool is Trello. It's a highly customizable and flexible task management app. Users can create, share, manage or organize anything from simple to-do lists or tasks to complex projects very easily. The app works in Kanban style, a visual layout originates from Japan. Here tasks are added as cards with deadlines, attachments, assigned members and with "to-do," "going" and "done" statuses. These cards are grouped into boards, called Trello boards. So teams can visualize their workflow and keep track of work progress easily. Trello ensures instant messaging within teammates, multi-device syncing and integration of many third-party services. Its free version is limited with 10 team boards, although the business plan (premium) gives unlimited boards.
Slack (Windows, Mac, Android, iOS, Web)
Source: Slack
Team Communication & Collaboration
Remote Working
Free, Premium: $8/User/Month (Standard), $15/User/Month (Plus)
Slack is a channel-based group messaging platform, specially designed for remote workers. This widely used business communication tool offers IRC-style features like persistent chat rooms organized by topic, private groups, and direct messaging. Users can have group discussions, 1 to 1 conversations, audio calls or video calls. In Slack, teamwork and conversations are organized into dedicated channels. A channel is a single place for teammates to share messages, files or other attachments. Slack ensures real-time messaging by syncing across devices and also integrates with some third-party services. Along with the free version, Slack offers 'Standard plan' for small and medium-sized businesses and 'Plus plan' for larger businesses.
TeamViewer (Windows, Mac, Linux, Android, iOS, Chrome OS, BlackBerry OS)
Source: TeamViewer
Remote Administration
Collaboration Tool
Free, Premium: starts from $49/Month
TeamViewer is a remote access, remote control and remote support tool that works with almost every desktop and mobile platform. It's a very powerful software for working closely with remote team members. By using TeamViewer, you can have access to devices located anywhere and control them remotely. For businesses, it enables users to connect with multiple workstations remotely and they can share any files or tools, collaborate with a number of people. Service providers can provide remote supports with it. Although the free version is available only for personal users and non-commercial uses, TeamViewer has business/premium plans for more featured options.
Toggl (Windows, Mac, Android, iOS, Chrome, Firefox, Web)
Source: Toggl
Time Tracking
Timesheet Management
Free, Premium: $9/User/Month
Toggl is a simple but powerful time tracker for hassle-free time tracking, that helps to identify how much your time is worth. With its timer, reminders and idle detection, users can keep track of how much time they spend on different tasks. Again its detailed reporting can help anyone to be more productive. It's a very flexible and customizable app with a lot of functions like automatic timer, timesheet management, reminders, email reporting, bulk editing, pomodoro timer, project dashboard, PDF & CSV file imports, multi-device synchronization, third-party apps integrations, etc. However, the free version of Toggl offers five-person team limits along with some limited options. Its premium plan unblocks all the features.
IFTTT (Android, iOS, Web)
Source: IFTTT
Task Automation
Conditional Statement Creator
Free, Premium: starts from $5 or $15 /User/Month
"If This, Then That" or simply known as IFTTT, is an interesting and very interactive productivity tool. It allows users to create any conditional statement that commands a particular app to do certain things at a certain time. For example, you want all your gmail attachments uploaded to the cloud drive. So you can make a sequence like, "If any of my gmail contains attachments, then upload those fills to Google drive" and IFTTT does the rest. By automating the tasks in this way, anyone can save more time and increase productivity. In IFTTT, a chain of conditional sequences is called 'Applets'. There exist a number of pre-built applets in the app and users can create more custom sequences to automate their tasks. Also it has 300+ apps integration.
Zapier (Windows, Mac, iOS, Android, Web)
Source: Zapier
Apps Integration
Automation Tool
Free, Premium: $24.99/Month (Starter), $61.25/Month (Professional), $373.75/Month (Team), $748.75/Month (Company)
Another powerful integration and automation tool is Zapier. This one is more focused on business and other productivity apps, though you can integrate with over 1500 apps and services to share data and automate any task between them. Moreover, making autonomous workflows is very easy in Zapier — point, click & automate. Here an automated workflow between the apps is called 'Zap'. For example you can have a zap that saves your email attachments to a Dropbox folder and gives a Slack notification every time. In the free version of Zapier, you can have 5 zaps and 100 tasks/month. Users of Starter plan and Professional plan can have 750 and 2,000 tasks per month respectively. Team and Company plan allow creating 50,000 and 100,000 tasks per month respectively.
Microsoft Office 365 (Windows, macOS, Android, iOS)
Source: Office 365
Office Productivity Suites
Premium: Personal – $6.99/Month (1 user), Family – $9.99/Month (6 users), Business – $15.00/Month
Whenever we think of any office software suite, the first thing that came up in our mind is Microsoft Office. Still it's the world's most widely-used office suite which is now increasing its popularity with the latest full featured incarnation – Office 365.
Microsoft Office 365 is a line of productivity apps encompassing Microsoft's all office software suite along with the premium ones and cloud support. You can get all the premium and rich features of Microsoft's productivity apps including Word, Excel, Powerpoint, Outlook, OneDrive, OneNote, Microsoft Teams, Yammer, SharePoint and more in one place. And you can easily sync all of this with any of your devices.
G Suite
Source: G suite
Premium: $6/User/Month (Basic), $12/User/Month (Business), $25/User/Month (Enterprise)
Google's office productivity suite (Docs,, Sheets, Slides, Drive) has earned much popularity in a very short time. Specially, these productivity apps are widely used in mobile devices. It's also very reputed for its cloud supports. G suite is the business-grade version of Google's office suite. It's a cloud-based productivity, collaboration and communication tools series that includes Docs, Sheets, Slides, Keep, Forms, Sites, Drive, Calendar, Gmail, Hangouts, Currents, Meet and Jamboard. So it can provide you a comprehensive productive service in just one place. G Suite also gives additional supports depending on the package (business/enterprise). Again, Google offers a free Education plan of G suite available only for educational institutions.
Apart from the apps listed here, you can find a lot of other apps with various options for increasing productivity. All these apps will help you in many ways in your struggle for being productive every day. One thing is sure, more productivity means more time and more money. So, why not be more organized and get more done?
Written By
Anaet Ullah Biswas
Student | Department of Business Administration
Mawlana Bhashani Science & Technology University.