In the conservative society of Bangladesh, women face discrimination right from childhood. It's not easy being a woman and still be very successful, where the society is particularly male-dominated. Yet some women have courageously chased their dreams and achieved them. Here are 10 entrepreneurs who made their mark in a usually male-dominated arena.
Top 10 woman entrepreneurs in Bangladesh
Bibi Russell
Bibi Russell, a former catwalk queen and a queen of khadi is the founder of bibi productions which is worldly renowned fashion house working with craftspeople across the country. Being born in Chittagong and completing her graduation from the London college of fashion, she worked as a model for a few years.
The former catwalk queen founded her productions from the belief of playing important role in society. Having understood the potentiality of crafts, she has been working diligently to save them. Having recognized and receiving award from the numerous reputable organization she is now op-to make an impact in the fashion and textile industry.
Ivy Haq Russell
Ivy Huq Russell, former investment banker, Founded Maya with a vision to empower women through giving them access to information and a shared community. She founded maya.com.bd that provides an opportunity to improve lives of women in Bangladesh. She is also the Managing Director of Maya. As a venture Maya is very interesting in a sense that it has a very compelling value proposition along with a realistic chance to change the way of life of Bangladeshi women for good. A former investment banker, Ivy's philanthropic nature led her to launch the site in Beta in September 2011, which along with positive responses, came runners up in the BRAC 40 year innovation competition. Ivy plans to expand Bengali contents and include more subject matter in future.
Taslima Miji

Taslima Miji, founder and CEO of Techmania based on hardware and hardware related services, i.e. computer, computer assembly, networking and computer related peripheral items and trouble shooting of various items etc.
After having an unfortunate end in journalism career she established Techmania courageously having encouraged by her friends in order to start fresh. Being an young women and running tech business on her own is exceptional. There were times she faced obstacles and discrimination but her rebellious attitude and go-getter attitude helped her go through. She is now a feminist and a complete dedicatory to her business which gives other women hope to be on her own.
Sabila Enun
Sabila Enun, an entrepreneur, who has different thinking comparing to other women that the society does not see often. While most of the women consider stability and security is more important in one point of her career, Sabila is willing to make her own identity through her work. Completing her degree in computer science and engineering she has started working with DCastalia. Through her entrepreneurial pursuit, she also serves to innumerable national and international organization as a consultant and trainer. Still now she looked for opportunities to learn and improve.
Selima Ahmed
Selima Ahmad is president and founder of the Bangladesh Women Chamber of Commerce and Industry (BWCCI), which represents the interests and supports the initiatives of women entrepreneurs. As a successful businesswomen herself with long-standing experience in the private sector, she took the initiative to form a chamber of commerce devoted exclusively to facilitating the advancement of women entrepreneurs. As a recognition of her work, she has won prestigious Islamic Development Bank (IDB) prize 2012 for best women entrepreneurs along with number of other recognition.
Sabrina Islam
Sabrina Islam, is the president of the Women Entrepreneurs Association (WEA) Bangladesh. She is an executive committee member of Bangladesh Employers Federation as well as a member of various other trade bodies and organizations like AmCham, BFWE, SME Foundation etc.
The major problem she faced during running her business is the absence of training facilities in necessary skills and raw materials in Bangladesh. Despite the struggles, her company, which started with only two workers, has tasted success over time as the demand for the glasses increased. She received DHL – Daily Star Bangladesh Business Awards 'Outstanding Woman in Business Award-2008'.
Nadia Binte Amin
Nadia Binte Amin, along with her friends, founded Research and Computing Services in the year 1993. The company has been conducting research works with UNICEF, UNDP, foreign NGOs and various national and multinational companies in areas such as sanitation and hygiene, education, child protection etc.
Being passionate about helping people, she works in different social organizations, helping women and children. With her education, expertise and relentless service, she hopes to change the socio-economic conditions of people in Bangladesh.
Samira Zuberi Himika
Samira Zuberi Himika is the founder & Managing Director of 'team engine'. She believes that for an entrepreneur, it is necessary to know everything that is needed to run a business, never to show the arrogance of passing off a work thinking it's too minuscule for your position. She is caring and supportive, always encourage people around her. A self inspired person who worked in major International organizations in communicating fields prior of starting her own entrepreneurial journey.
Selina Qadarr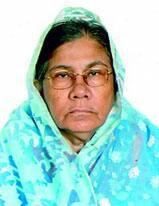 Salina Qadarr, a stern believer of feminism, founded Agriconcern, an agriculture-based business, in the year 1985.She observed that unlike other countries, Bangladesh government provides merely 10% subsidy in potato export. Her company has been helping them to produce 10000 to 12000 metric tons of potato for exportation every year, along with preserving the environment and improving lives of farmers. She received an award from The Daily Star for her tenacious effort in 2004.
Rubaba Dowla
Rubaba Dowla, founder of 'Pulse Healthcare Service ', established in 2017. Rubaba Dowla is an exceedingly experienced pioneer with successful track record of brand management, product innovations and corporate correspondence. She has been instrumental in building Telenor subsidiary Grameenphone, as number one brand and business sector pioneer with more than USD 1 billion income from a start-up stage. She is as of now heading Services and M-commerce portfolio of Airtel Bangladesh. She has over sixteen years of involvement in telecommunications field having extensive involvement in planning corporate vision and long term strategy, driving all marketing related functions including spearheading various product innovations with P&L responsibility, segmentation, VAS, Brand administration and development and so on. She is currently the Chief Service Office at Airtel Bangladesh.
Ms. Dowla thinks accomplishing things on time is vital when working. In the corporate world, things need to get done right at that moment.
Contributor: Sanzida Ferdous; Studying at Mawlana Bhashani Science and Technology University.
Note: These are not Official Ranking From Any Established Authority. Business Haunt Picked Them Randomly and Placed on the Base of Popularity and Internet Source.