Job life consumes one big chunk of time in an individual's life. This is that period of time where one enters, grows, makes a living to support family & earns respect & leaves an impact for the next generation. But not everyone goes through the same status, dignity, success & enrichment in job life. For some, it is crucial to continue & sustain because of personal or familial bindings, for others, it is important to maintain the supreme image in the profession more than anything else. Nobody takes a responsibility to be a failure still some people go through a rough time in job life when they almost get the vibe of losing it, losing the reputation, source of secure income & dignity due to either incapability or being stuck to a position.
Let's see how this condition can be changed & let's highlight some effective strategies that can save & strengthen the security of the job holders.
Top 5 Strategies to Strengthen Your Position in Job Life
1. Be a Pro in Related Discipline
This one rule can save you big time. No matter which discipline you contribute to or have studied from, there is development happening every year to it. So be the well versed one, updated one on your field of expertise. If you can prove your mettle to your departmental head or seniors or employers, definitely you hold a good chance to be retained & succeed with a striking prospect. For this, you will need to research & get updated with contemporary news & development through related websites & blogs.
Through determination and self-focus and discipline, you can accomplish anything.

Kimberly Guilfoyle
2. Making Liaison with Other Industry
One job holder must not limit his or her own skills & area of operation to one particular industry only. Sometimes, situations could go against in the organization or in the industry where you are working, so if you think that I am only for this organization or this industry at large & this is where I have to exist then it is big wrong thinking. If you are expert in any area, try to reach out to larger people. Get connected with resource persons of different industry where you know you can contribute. By doing this you are actually increasing & securing your prospect of job life which implies that if running or attached organization fails to fulfill your need or if someday it tries to terminate your job contract, you will have other secure places to move into.
Career diversification ain't a bad thing.

Vin Diesel
3. Broaden Your Vision
After entering into an organization, you must develop a vision with time, what actually you want to achieve by working for the rest of the time in your life. Then you should proceed accordingly. Many of the incumbents fail to nurture a vision about this & end up being a confused & depressed person in job life. The plus side of having a vision is that you will know what you want to achieve & how you want to accomplish that. When you have a vision for example – to be a Human Resource Manager, you will be sincere about every step from the very beginning of your job life which is supposed to start being a Human Resource Executive. Your vision will guide you so much so that your organization will never have any reason to identify you as a weak performer as you will always be prompt with a continuous learning attitude.
Without vision, even the most focused passion is a battery without a device.

Ken Auletta
4. Keep Regular Contact with Human Resource (HR) Department
HR dept. is the one department that tracks record of every employee. So by maintaining a sincere with the HR dept. one can easily get to know about the thoughts of the organization about the employees & if there is any major change coming to affect the working process or not.
Good communication is as stimulating as black coffee, and just as hard.

Anne Spencer
5. Lead the Process
Organizations always prefer those employees who show initiatives that bring new business & profits. So this is one strategy that will always work for everyone regardless of attachment to any particular dept. Not each year brings equal opportunities for organizations, sometimes there is a dearth of growth. At that time, if you can come up with innovative ideas & projected good result to save the business of the company, you will always be given due credit & recognized with high regards.
Leading by example is the most powerful advice you can give to anybody.

N. R. Narayana Murthy
So, these are some effective strategies that have the merit to make the job life secure. Each person has the talent & is a source of immense possibility; one just needs to prove it to enjoy a satisfied & impactful job life.
Author: Abu Md. Abdullah
Assistant Professor
Faculty of Business Administration
Eastern University, Dhaka, Bangladesh.
Email: abdullah@easternuni.edu.bd
10 Business Skills that Might Come in Handy in Everyday Life
The human being is a very curious species by birth. He is always up to something new and always tries to amplify new skills by nature. But it's true that nobody can amplify all the skillset at a time. It takes patients and dedication to master. One must go into the path of trial and error for that. There are 10 sets of business skills everyone needs to master within his/her academic life. Not only in career but also in their daily life, all of these 10 skills are crucial, and all of these will assist one person to become a successful person not in his career but also in his daily life.
Top 10 Business Skills to You Need to Work On
1. Communication
According to Bloomberg's job skills report, most employers are looking for candidates with strong communication abilities-after all you are going to deal with miscellaneous clients. Communication skill is not just about how you talk or greet a person, It's much more than these. This skill has a major effect where ever you are and where ever you will be, whether in your personal life or in your professional life. Try to understand the core concept of this skill and try to practice it in your everyday life. You can not become a master of it within a week, but surely you can see your progress by the end of the month.
2. Leadership
Leadership skill is a charismatic skill to drive your subordinates and peers your way. With this skill, you can organize any event, motivate any person, and achieve any goal. With this skill, you can be incredibly valuable to others and you can unify a group and lead them in the right way. Leadership skill is a combination of managerial and human skills. If one of the skills isn't in you, you can not say that you are a leader. Most of us treat the manager as a leader or the authority as a leader. Leadership skill needs years or decades to adopt in. It's not as simple as it looks in the first attempt.
3. Financial Knowledge
Covid-19 has taught the world what happens when you lack basic financial knowledge. Financial knowledge is very crucial for everyone, You must know the basics of financial management – savings, asset management, investment management, loan, debt effect, etc. The knowledge of finance helps you to speak the language of your business/profession and assists you to understand the current financial position of your business or the company you are working for. With it, you can make realistic budgets, and always make cost-effective decisions that will impact your personal and professio0nal life.
4. Technical Know-How
Today we live in the age of technology, it's a global village today, you can connect anytime at anywhere you want. Whether you are a business person or a very common person, you can but help yourself without using technology in your daily life. it's more like, we eat and sleep with technology. Just look around you, you will figure out what I meant. Whether you are a business person or employee at any company you must be proficient in using regular technological products like computers, smartphones, printers, the internet, etc, and need to adopt new technologies relates to your work or daily life. Cause, technology helps you to connect, organize, manage and most crucially have everything in your hands within a very short time.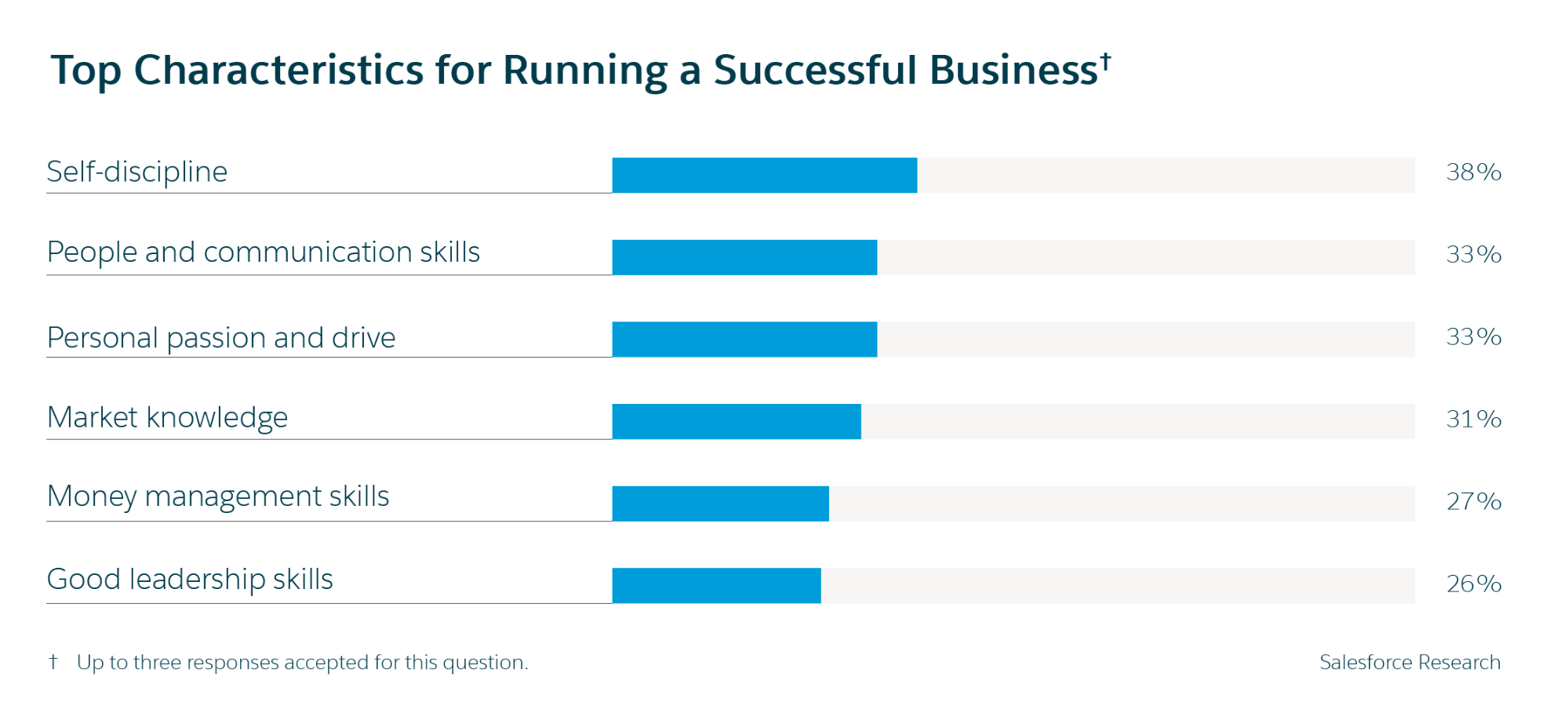 5. Never Give Up Mentality
Good things always come to those who work hard and have the never-giving-up kind of mindset. According to some psychologists, there are some people who are like born from the ashes. In most cases, they had been knocked down by life previously but they come back in life stronger than ever before. Such resilience is not easy to attain. Personality traits like optimism, positive attitude, ability to regulate emotions can assist you to be a person who falls twice and get up three times. Finally, if you really possess such a kind of attitude, you are halfway to your success already.
6. Curosity
There is a saying that" childhood is the best school and curiosity is the best teacher" so always stay curious. Ask questions, explore, speak with people. Increasing your curiosity will help you spark your creativity. It's going to help you explore the need of your customers and motivate you to come out with new innovations meeting the needs. Even, if you are doing a job under somebody it's going to help you by enhancing your work efficiency.
7. Market Understanding
Whether you are a businessman or a jobholder, your success mostly depends on customers. As a business person you are to know why your customers make the decisions they do, and how you can use that knowledge to make your company benefited. If you have the market understanding that who are your possible customers then you can make different strategies for each type, tailoring your message and price to their needs. When you are doing a job under the marketing department of an organization you can but help yourself without understanding the marketing terminologies and your customers.
8. Team Work
You definitely can do certain work on your own but the ability to do the same work with a team is an ability that you should try to develop throughout your lifetime. When you are working with a team you develop your listening and speaking skills. Moreover, you share knowledge, skills when you are working with a team instead of working alone. You can lead a team and that's how you can develop your leadership skills too and all of these skills are going to help you get your goals to fulfill irrespective of which profession you are in.
9. Presentation
Presentation skill is considered to be one of the most crucial skills to be successful in business. When you have a solid skill to present something it's going to help you in making your career moves, making an effective meeting, closing sales deals, communicating ideas, and a lot more.
10. Time Management
Time management is really a vital skill for a business person as well as for any other professionals cause it says "time is money". A real professional always does proper management of his time by making realistic planning and avoiding unproductive works. If you give proper value to your time, time will return you the same. You can develop that skill by saying 'NO' to voluntary commitments and by creating a margin in your schedule to ensure the completion of all your tasks.
Top 12 Productivity Apps to Get More Done
In this very competitive and busy world, just hard working doesn't always bring a fruitful result for us. Fact is we need to work smarter, not just harder. And ultimately be more and more productive for staying top on every task. Productivity is a measure of efficiency or simply how efficiently you can complete your task. It's actually getting desired results with less time and effort.
Today, every successful person, institute or company is obsessed with productivity. The exciting technologies of present time always try to give very easy and effective solutions to almost all of our problems, small to big ones. As a result, there's an excellent range of productivity apps available for making our day-to-day tasks easier and more effective. These apps can help you to complete your professional and personal tasks in a lot more efficient way. You can have many of these apps for free or go for the premium ones to get more featured functions.
Here are 12 popular and widely-used productivity apps that can immensely boost your productivity:
Todoist (Windows, Mac, iOS, Android, Chrome, Safari, Firefox)
Source: Todoist
To-Do lists
Task Management
Free, Premium: $3/Month
Todoist is one of the top-ranked productivity apps that helps millions of people organize work and life. It keeps track of all the tasks, projects, and goals of the user in one simple place. It also syncs across devices and integrates with necessary apps. The free version allows collaboration with five people per project and managing 80 projects at a time. Upgrading to premium provides options like reminders, labels, filters, templates, activity log, add tasks via email, comments & file uploads, calendar feeds, themes and automatic backups.
Evernote (iOS, Android, Windows, Mac)
Source: Evernote
Notepad
Organizer & Planner App
Free, Premium: $7.99/Month, Business: $14.99/User/Month
When it comes to organizing thoughts and ideas, Evernote will probably be at the top. Evernote is one of most widely used note taking app with a variety of features. Users can take & store text, audio, drawings, pictures, PDFs, web contents and other attachments as notes. It also gives reminders, email alerts, multi-device syncing and sharing options. The premium version has powerful organizer and planner functionalities. Its business plan allows collaboration and team projects.
Any.do (Web, Android, iOS)
Source: Any.do
Task Management
To-Do lists, Calendar, Reminders, Daily Planner
Free, Premium: $5.99/Month
Any.do is a great option for organizing our busy life. This is the all in one app featuring calendar, lists, planner, reminders, virtual assistant, voice-entry feature and more. It provides cross-platform syncing among phone, laptop, computer, web and even smart-watch. Any.do premium version comes with prioritized tasks, location based reminders, unlimited attachments, unlimited collaboration and some other options.
Asana (Android, iOS, Web)
Source: Asana
Project & Task Management
Collaboration & Integrations Tool
Free, Premium: $13.49/User/Month
Beyond from to-do lists, Asana is one of the very first workplace apps for collaboration, integration and communication within teams. It's a highly featured project management tool. Users can create to-do lists, projects, assign tasks to team members, keep track of ongoing works, set reminders & deadlines, send requests, make comments and much more. It's a great option for remote work and team management. The basic/free version of Asana allows collaborating with up to 15 teammates. Upgrading to premium increases this capacity and unblocks more features. Asana also gives business and enterprise (custom) plans. Companies like TED, Pinterest, Uber, Deloitte, Voxmedia, Comcast — use this app for productive communications.
Trello (Windows, Mac, iOS, Android, Web)
Source: Trello
Work/Task Management
Collaboration & Integrations Tool
Free, Premium: $12.50/User/Month
Another popular and very efficient workplace collaboration tool is Trello. It's a highly customizable and flexible task management app. Users can create, share, manage or organize anything from simple to-do lists or tasks to complex projects very easily. The app works in Kanban style, a visual layout originates from Japan. Here tasks are added as cards with deadlines, attachments, assigned members and with "to-do," "going" and "done" statuses. These cards are grouped into boards, called Trello boards. So teams can visualize their workflow and keep track of work progress easily. Trello ensures instant messaging within teammates, multi-device syncing and integration of many third-party services. Its free version is limited with 10 team boards, although the business plan (premium) gives unlimited boards.
Slack (Windows, Mac, Android, iOS, Web)
Source: Slack
Team Communication & Collaboration
Remote Working
Free, Premium: $8/User/Month (Standard), $15/User/Month (Plus)
Slack is a channel-based group messaging platform, specially designed for remote workers. This widely used business communication tool offers IRC-style features like persistent chat rooms organized by topic, private groups, and direct messaging. Users can have group discussions, 1 to 1 conversations, audio calls or video calls. In Slack, teamwork and conversations are organized into dedicated channels. A channel is a single place for teammates to share messages, files or other attachments. Slack ensures real-time messaging by syncing across devices and also integrates with some third-party services. Along with the free version, Slack offers 'Standard plan' for small and medium-sized businesses and 'Plus plan' for larger businesses.
TeamViewer (Windows, Mac, Linux, Android, iOS, Chrome OS, BlackBerry OS)
Source: TeamViewer
Remote Administration
Collaboration Tool
Free, Premium: starts from $49/Month
TeamViewer is a remote access, remote control and remote support tool that works with almost every desktop and mobile platform. It's a very powerful software for working closely with remote team members. By using TeamViewer, you can have access to devices located anywhere and control them remotely. For businesses, it enables users to connect with multiple workstations remotely and they can share any files or tools, collaborate with a number of people. Service providers can provide remote supports with it. Although the free version is available only for personal users and non-commercial uses, TeamViewer has business/premium plans for more featured options.
Toggl (Windows, Mac, Android, iOS, Chrome, Firefox, Web)
Source: Toggl
Time Tracking
Timesheet Management
Free, Premium: $9/User/Month
Toggl is a simple but powerful time tracker for hassle-free time tracking, that helps to identify how much your time is worth. With its timer, reminders and idle detection, users can keep track of how much time they spend on different tasks. Again its detailed reporting can help anyone to be more productive. It's a very flexible and customizable app with a lot of functions like automatic timer, timesheet management, reminders, email reporting, bulk editing, pomodoro timer, project dashboard, PDF & CSV file imports, multi-device synchronization, third-party apps integrations, etc. However, the free version of Toggl offers five-person team limits along with some limited options. Its premium plan unblocks all the features.
IFTTT (Android, iOS, Web)
Source: IFTTT
Task Automation
Conditional Statement Creator
Free, Premium: starts from $5 or $15 /User/Month
"If This, Then That" or simply known as IFTTT, is an interesting and very interactive productivity tool. It allows users to create any conditional statement that commands a particular app to do certain things at a certain time. For example, you want all your gmail attachments uploaded to the cloud drive. So you can make a sequence like, "If any of my gmail contains attachments, then upload those fills to Google drive" and IFTTT does the rest. By automating the tasks in this way, anyone can save more time and increase productivity. In IFTTT, a chain of conditional sequences is called 'Applets'. There exist a number of pre-built applets in the app and users can create more custom sequences to automate their tasks. Also it has 300+ apps integration.
Zapier (Windows, Mac, iOS, Android, Web)
Source: Zapier
Apps Integration
Automation Tool
Free, Premium: $24.99/Month (Starter), $61.25/Month (Professional), $373.75/Month (Team), $748.75/Month (Company)
Another powerful integration and automation tool is Zapier. This one is more focused on business and other productivity apps, though you can integrate with over 1500 apps and services to share data and automate any task between them. Moreover, making autonomous workflows is very easy in Zapier — point, click & automate. Here an automated workflow between the apps is called 'Zap'. For example you can have a zap that saves your email attachments to a Dropbox folder and gives a Slack notification every time. In the free version of Zapier, you can have 5 zaps and 100 tasks/month. Users of Starter plan and Professional plan can have 750 and 2,000 tasks per month respectively. Team and Company plan allow creating 50,000 and 100,000 tasks per month respectively.
Microsoft Office 365 (Windows, macOS, Android, iOS)
Source: Office 365
Office Productivity Suites
Premium: Personal – $6.99/Month (1 user), Family – $9.99/Month (6 users), Business – $15.00/Month
Whenever we think of any office software suite, the first thing that came up in our mind is Microsoft Office. Still it's the world's most widely-used office suite which is now increasing its popularity with the latest full featured incarnation – Office 365.
Microsoft Office 365 is a line of productivity apps encompassing Microsoft's all office software suite along with the premium ones and cloud support. You can get all the premium and rich features of Microsoft's productivity apps including Word, Excel, Powerpoint, Outlook, OneDrive, OneNote, Microsoft Teams, Yammer, SharePoint and more in one place. And you can easily sync all of this with any of your devices.
G Suite
Source: G suite
Premium: $6/User/Month (Basic), $12/User/Month (Business), $25/User/Month (Enterprise)
Google's office productivity suite (Docs,, Sheets, Slides, Drive) has earned much popularity in a very short time. Specially, these productivity apps are widely used in mobile devices. It's also very reputed for its cloud supports. G suite is the business-grade version of Google's office suite. It's a cloud-based productivity, collaboration and communication tools series that includes Docs, Sheets, Slides, Keep, Forms, Sites, Drive, Calendar, Gmail, Hangouts, Currents, Meet and Jamboard. So it can provide you a comprehensive productive service in just one place. G Suite also gives additional supports depending on the package (business/enterprise). Again, Google offers a free Education plan of G suite available only for educational institutions.
Apart from the apps listed here, you can find a lot of other apps with various options for increasing productivity. All these apps will help you in many ways in your struggle for being productive every day. One thing is sure, more productivity means more time and more money. So, why not be more organized and get more done?
Written By
Anaet Ullah Biswas
Student | Department of Business Administration
Mawlana Bhashani Science & Technology University.